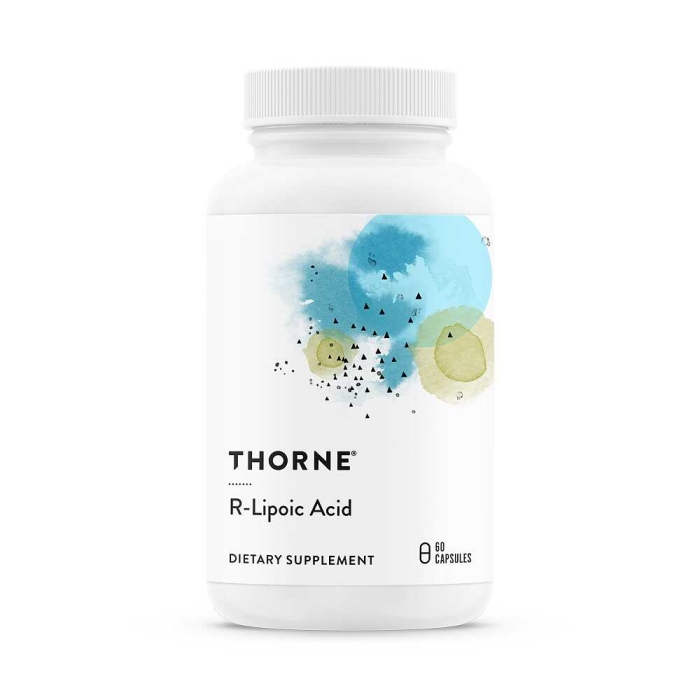 R-Lipoic Acid from Thorne is a highly absorbable mixture of R-lipoic acid (R-ALA) and S-lipoic acid (S-ALA) known for being a cofactor for enzymes involved in energy production. R-Lipoic Acid increases glutathione and CoQ10 in the body.
Easily absorbed R-Lipoic Acid
Cofactor for energy production
Increases glutathione and CoQ10 level
Tested from free of gluten, artificial fillers, dyes, and additives
Special Price
€52,99
Regular Price
€61,99
Buy now, pay later with Klarna.
Free Shipping on orders over €100

Out of stock
R-Lipoic Acid
Thorne has discontinued this product but has a replacement that you can find here. 
Alpha-lipoic acid occurs naturally as a 50/50 mixture of R-lipoic acid (R-ALA) and S-lipoic acid (S-ALA). R-lipoic acid by itself functions as a cofactor for enzymes involved in energy production.
Studies indicate that supplements containing only R-lipoic acid appear to be better absorbed than supplements containing both R-lipoic acid and S-lipoic acid, with results showing twice as much ALA appearing in the bloodstream after an oral dose of R-Lipoic acid. Because R-Lipoic acid is the form best utilised by the body, Thorne provides R-lipoic acid bound to sodium, providing it in its most stable, absorbable form.
Supplement Facts
| Amount per serving (1 cap) | | % of NRV |
| --- | --- | --- |
| R-Lipoic Acid (Sodium) | 100 mg | * |
NRV = Nutrient Reference Value
*NRV not established
Other ingredients
Calcium laurate, hypromellose capsule, leucine, magnesium (citrate), microcrystalline cellulose, silicon dioxide.
Suggested use
1 capsule 1–2 times/day. If you find it difficult to swallow the capsule, it can be opened, and its content can be sprinkled on food or into drinks that should be consumed immediately.
Advisory information
Do not exceed suggested dosage. Keep out of the reach of children. Food supplements should not be used as a substitute for a balanced diet and healthy lifestyle. Store tightly sealed in a cool, dry place. Do not expose food supplements to direct sunlight, heat or humidity. Manufactured in the U.S. If you are pregnant, nursing or taking medications, contact your healthcare provider before taking this product.