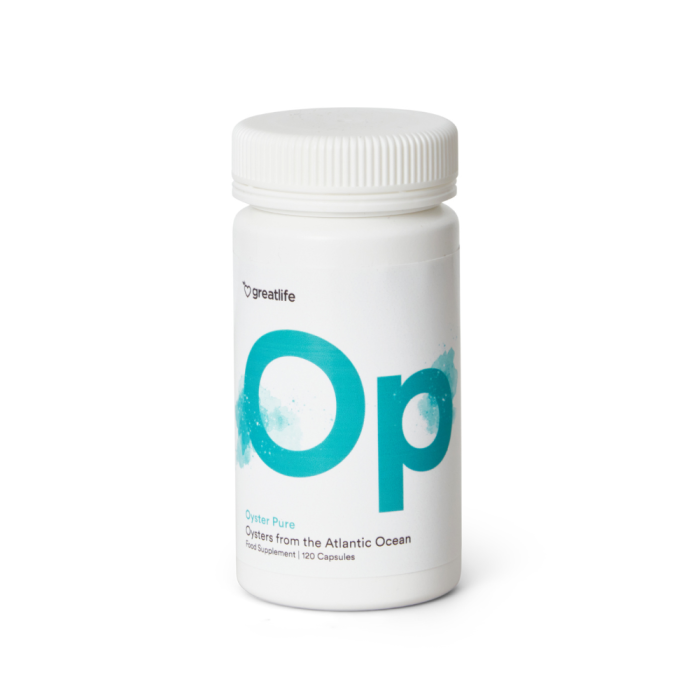 Oyster Plus+ is a premium supplement with gently dried oysters from the Atlantic Ocean, nothing else. Oysters are rich in Vitamin B12, zinc, selenium, copper, and iodine. The oysters in Oyster Plus+ are tested, both in-house and by an independent test laboratory for heavy metals and microorganisms.
100% oysters from the Atlantic Ocean
Naturally occurring Vitamin B12, zinc, selenium, copper and iodine
Paleo supplement
Produced under GMP and HACCP
Completely free of filling material, dyes and additives
Tested free of heavy metals, fungus, yeast and bacteria
Does not contain gluten, soy, dairy products, magnesium stearate or GMO
Special Price
€65,99
Regular Price
€71,99
Buy now, pay later with Klarna.
Free Shipping on orders over €100

In stock
Oyster Pure
Oyster Plus+ is a premium supplement with gently dried oysters from the Atlantic Ocean, nothing else. Oyster Plus+ originates from Irish oysters of the species Crassostrea gigas. The oysters are naturally rich in Vitamin B12, zinc, selenium, copper, and iodine. The oysters in Oyster Plus+ are tested both in the in-house laboratory and by an independent laboratory. Every batch will be tested for heavy metals, fungi, yeast, and bacteria. The levels of vitamins and minerals are also tested in order to guarantee that what is written on the label is really true. Oyster Plus+ is produced under GMP and HACCP.
The oysters are dried the same day as they are fished and the drying process is gentle in order to preserve the naturally occurring vitamins and minerals in the oysters. No synthetic vitamins or minerals are added to Oyster Plus+. Due to the low humidity, Oyster Plus+ has a very long durability. One jar of Oyster Plus+ with 120 capsules contains a total of around 6 kg of oysters.
Oyster Plus+ can also be given as a supplement to animals such as dogs and cats.
| Amount per servings (4 cap) |   | % of NRV |
| --- | --- | --- |
| Oyster extract powder | 1,2 g | * |
| Vitamin B12 | 0,92 µg | 37 |
| Iodine | 12,2 µg | 8 |
| Zinc | 2,3 mg | 23 |
| Selenium | 3,5 µg | 6 |
| Copper | 190 µg | 19 |
NRV = Nutrient Reference Value
*NRV not established
Ingredients
Oyster extract powder (Crassostrea gigas), vegetable capsule (hydroxypropyl methylcellulose).
Suggested use
4 capsules per day with or without food. Some people get a boost of energy after they have taken Oyster Plus+, which is why we recommend that you take it in the morning. In case of difficulty in swallowing, the capsule can be taken apart for the content to be spread on food or in drink that will be consumed immediately.
Advisory information
Do not exceed suggested dosage. Keep out of the reach of children. Food supplements should not be used as a substitute for a balanced diet and healthy lifestyle. Store tightly sealed in a cool, dry place. Do not expose food supplements to direct sunlight, heat or humidity. Manufactured in the EU.
Oyster Plus+ is a natural dietary supplement that only contains oysters. That means that vitamins and minerals can occur in different concentrations depending on the season. For this reason, the value in the list of contents on the webpage is an average for each vitamin and mineral. However, the values of vitamins and minerals written on the jar are the exact ones, as every batch gets tested in a laboratory.
Customer Reviews
I immediately became much more energetic!

I began taking your Oyster Pure after a surgical accident from which I struggled to recover my vitality. I experienced a significant increase in energy levels right after I started using it!

My son got his energy back!

My 18-year-old son has been tired and lacking energy. I gave him Oyster Pure, and there has been a noticeable improvement in his condition! He has more stamina in his job as a carpentry apprentice, and he generally feels better!

Worth every penny!

I ordered Oyster Pure for my 65+ year old husband on the recommendation of a naturopath. My husband noticed a difference in his energy levels within a week. Within a few weeks, I noticed a difference in our bedroom activity. A difference we were both pleasantly surprised by. I make sure he never runs out! The product is worth every penny!

I'm losing less hair and have better skin!

In an attempt to reduce my intake of synthetic supplements, I switched to food-based alternatives to compensate for nutrient deficiencies. Within a few weeks of starting to take oyster extract, I noticed a firm, smooth glowing skin and less hair falling out. Oyster extract is also an absolute must for anyone following a detox protocol.

Highly recommended!

I was looking for a natural supplement that could help strengthen my immune system because I suffered from a lifelong inflammation problem, nothing really serious, but very annoying and the healthcare system didn't seem to have any cure for my problem. With oyster extract, I got rid of the symptoms within about 6 months and now I have much more energy and feel healthy. I can highly recommend Oyster Pure. You will never regret it.

Nothing has made a bigger difference!

I started taking oyster extract about 2 months ago and it has drastically changed my life! I have two jobs, and I can handle both jobs and still have energy. My body doesn't seem to get as easily tired and sore as it used to! My mood is much more stable too. I feel like I just have so much more energy! People have actually asked me how I remain so energetic. I always tell them about oyster extract and how much of a difference it has made for me! I found that it helps me wake up alert in the morning! No more groggy and complaining all day! I'm not even craving or needing coffee! Just pure happiness!!! Nothing has ever made such a drastic difference as oyster extract.

Fantastic product!

Once again we have experienced the power of oyster extract. We moved and the oyster extract was packed away and it took us a week to unpack it. My husband noticed the difference within a few days of starting to take it again. We recently had blood tests and imagine our surprise when my 67-year-old husband's testosterone levels came back higher than normal for his age! We believe it's because his daily use of this fantastic product!

Works better than anything else!

This product is AMAZING. I started experiencing very heavy and long periods with shorter cycles lasting about 5 months, something I've never experienced before and it was draining me completely. Iron, B vitamins, etc didn't do anything. I work as a therapist at a health food store so I tried everything. After literally 1 month of taking these, about 10/day, my next cycle was back to normal in terms of flow, ease, and length and it has stayed that way for the past 4 months. I take 5-10/day. I now feel like a woman in her late 30s.

Feeling the effect for real!

Great product that really works for energy levels and my 'drive'. I take about 6 to 8 capsules when I need a boost or feel my energy levels dipping. I'm really feeling the effect!

Highly recommended!

I've been using oyster extract for three months now and I'm very pleased with the product. The joint pain has disappeared and I can smile again. Highly recommend it. Thank you!

Oyster Pure has helped us!

We've seen such amazing health benefits with Oyster Pure for our son. Thank you!

My energy has increased enormously!

Excellent product with tremendous potential to increase testosterone. My energy and self-confidence have increased enormously thanks to four capsules a day. Thank you for improving my health and increasing my vitality!

By far the best supplement!

I'm currently recovering from an extremely severe chronic illness. I've tried more supplements than I can count. Oyster extract is by far the best supplement. It's had a huge impact on the healing process since I introduced it into my protocol several months ago. The positive benefits have been very noticeable and long-lasting. I've reviewed it very carefully and can say that this is a very pure product. It's hard to find quality supplements nowadays because most are diluted to increase margins, or made with dirty ingredients. I'm very happy and grateful to have found Oyster Pure.

Will be taking Oyster Pure forever!

My family and I will be taking this product FOREVER! My energy, testosterone and "drive" have reached a level that is super!

Best for getting zinc!

This is the best supplement you can take to get zinc into your system.

Extremely satisfied!

I have Hashimoto's Thyroiditis and I need to take zinc, selenium, and iodine. I'm extremely satisfied because Oyster Pure provides the nutrients I need. It's helped me prevent some of the side effects related to my illness. I can't recommend oyster extract enough.

My son got his energy back!

My 18 year old son has been tired and he had low energy. I gave him Oyster Pure and now he's better! He works as a carpenter and he has more energy at work and also feels better in general!