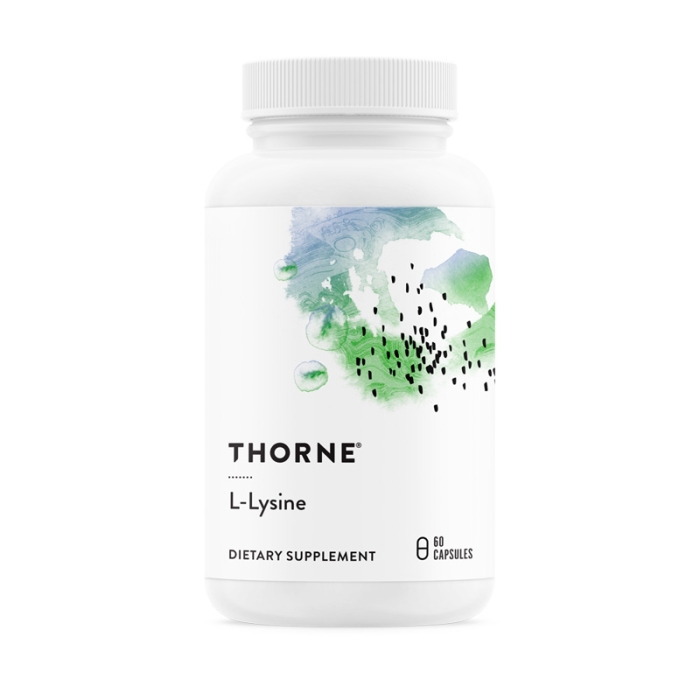 Lysine from Thorne is a high quality and very pure L-lysine supplement. L-Lysine has traditionally been used to treat herpes and to improve skin health. L-lysine is an important component in the production of collagen.
Pure L-Lysine

Traditionally used for herpes and skin health

Amino acid that is included in the production of collagen

Promotes calcium absorption, needed to maintain strong bones and teeth

Tested from free of gluten, artificial fillers, dyes, and additives
Special Price
€13,99
Regular Price
€29,99
Buy now, pay later with Klarna.
Free Shipping on orders over €100

In stock
L-Lysine
Lysine is an essential amino acid that your body doesn't produce on its own, which means it must come from diet or supplementation. Primary dietary sources of lysine are meat, poultry, fish and dairy. However, because many individuals don't get enough lysine through diet alone, supplementation of this essential amino acid is advisable.
Thorne's Lysine uses the purest, most absorbable form of this amino acid – without adding unnecessary additives or preservatives. Health benefits of lysine include:
Wound healing – Lysine is often recommended for supporting the healing of sores and wounds because of its benefits to collagen formation and immune function.

Some evidence indicates lysine can be beneficial for maintaining healthy gum and lip tissues.

Promotes immune health – lysine provides nutritional support to help your body maintain its natural defences.

Skin health – This amino acid is known to promote collagen formation, which in turn benefits the health and elasticity of skin.

Bone Health – lysine promotes calcium absorption, which is needed to maintain strong bones and teeth.
Vegetarians or vegans eating a lot of grains run the risk of being deficient in lysine.
Lysine is known for its use in treating herpes simplex virus (HSV). Lysine hinders the herpes virus from reproducing. Herpes virus uses arginine in its reproduction and lysine stops that mechanism. The dose is important if you take lysine to treat herpes. 3000 mg is a recommended dose for adults against herpes while doses of 1250 mg did not work as well according to research.
Contact If you suffer from herpes, we recommend L-Lysine in combination with Ultra C and Vitamin D3. Vitamin C contributes to a normal immune system and to normal collagen formation, which is important for the normal function of the skin. Research has established a significant association between low serum vitamin D levels and the presence of Herpes.
Supplement Facts
| Amount per serving (1 cap) | | % of NRV |
| --- | --- | --- |
| L-Lysine (Monohydrochloride) | 500 mg | * |
NRV = Nutrient Reference Value
*NRV not established
Other ingredients
Calcium laurate, hypromellose capsule, leucine, silicon dioxide.
Suggested use
1 capsule 2–3 times/day. If you find it difficult to swallow the capsule, it can be opened, and its content can be sprinkled on food or into drinks that should be consumed immediately.
Advisory information
Do not exceed suggested dosage. Keep out of the reach of children. Food supplements should not be used as a substitute for a balanced diet and healthy lifestyle. Store tightly sealed in a cool, dry place. Do not expose food supplements to direct sunlight, heat or humidity. Manufactured in the U.S. If you are pregnant, nursing or taking medications, contact your healthcare provider before taking this product.