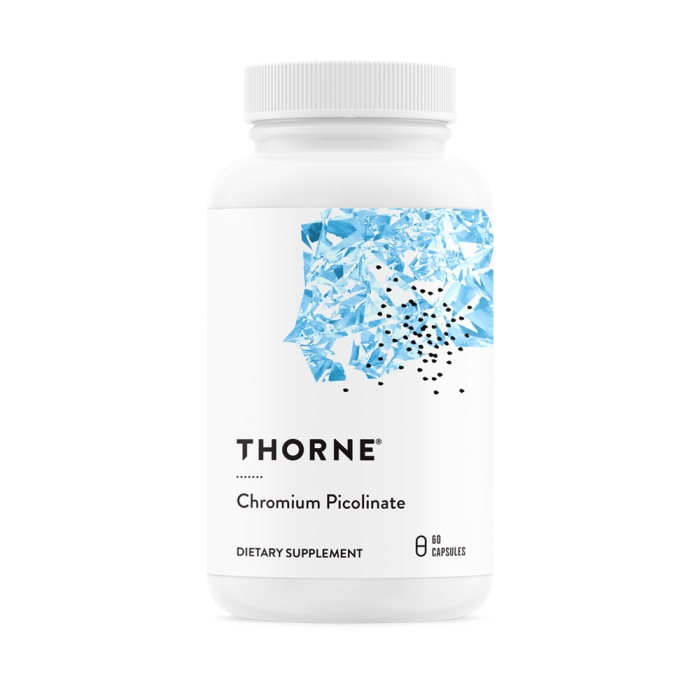 Chromium Picolinate from Thorne is a high dose chromium supplement. Chromium contributes to the normal metabolism of carbohydrates, protein and fat. Chromium also contributes to the maintenance of normal blood glucose levels and decreases sugar and carbohydrate cravings.
High dose chromium picolinate

Contributes to the maintenance of normal blood glucose levels

With picolinate to facilitate mineral absorption

Decrease sugar and carbohydrate cravings

Tested from free of gluten, artificial fillers, dyes, and additives
Special Price
€21,99
Regular Price
€22,99
Buy now, pay later with Klarna.
Free Shipping on orders over €100

In stock
Chromium Picolinate
Refined flour and refined sugar is significantly depleted of chromium. In addition, metabolic stress, strenuous exercise, and pregnancy can all increase chromium needs. Thorne's Chromium Picolinate provides chromium that is bound to picolinic acid, which facilitates its absorption, so you get chromium's full benefit. Chromium in the form of picolinate has been widely studied for its support of blood sugar metabolism and insulin sensitivity. Decreases in carbohydrate cravings have also been noted. Other studies show chromium picolinate can increase lean-body mass in obese patients and enhance the effect of weight management efforts.
Picolinic acid, a natural mineral chelator produced in the body, is made from the amino acid tryptophan in the liver and kidneys and is transported to the pancreas. During digestion, picolinic acid is secreted from the pancreas into the small intestine, where it binds to minerals and facilitates their absorption.
According to the University of Maryland Medical Center, approximately 90 percent of the American population has low levels of chromium. At low chromium levels, sugar cravings may occur.
Supplement Facts
| Amount per serving (1 cap) | | % of NRV |
| --- | --- | --- |
| Chromium (Picolinate) | 500 µg | 1250 |
NRV = Nutrient Reference Value
*NRV not established
Other ingredients
Hypromellose capsule, leucine, microcrystalline cellulose, silicon dioxide.
Suggested use
1 capsule 1–2 times/day. If you find it difficult to swallow the capsule, it can be opened, and its content can be sprinkled on food or into drinks that should be consumed immediately.
Advisory information
Do not exceed suggested dosage. Keep out of the reach of children. Food supplements should not be used as a substitute for a balanced diet and healthy lifestyle. Store tightly sealed in a cool, dry place. Do not expose food supplements to direct sunlight, heat or humidity. Manufactured in the U.S. If you are pregnant, nursing or taking medications, contact your healthcare provider before taking this product.