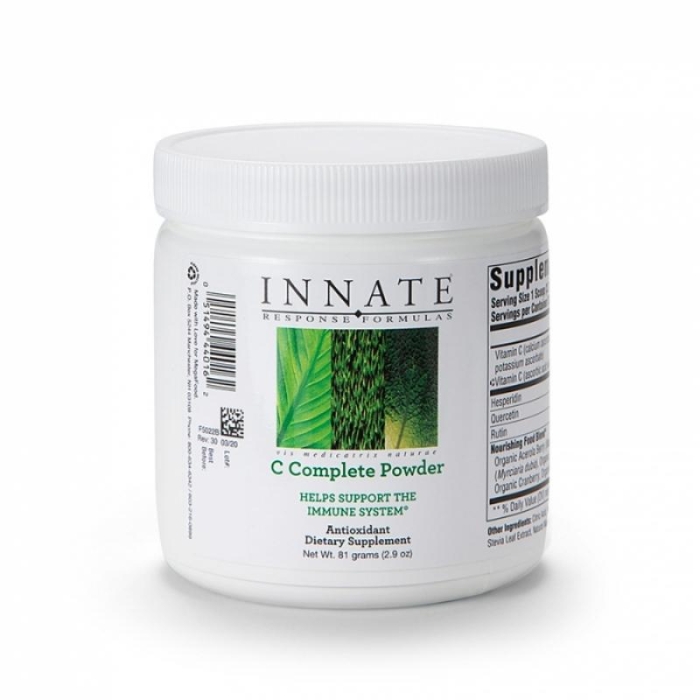 C-Complete Powder from Innate Response is a powerful vitamin C supplement that contains three types of vitamin C, three bioflavonoids and a phenolic rich food blend. It is an impressive vitamin C designed for the entire family.
Vitamin C with ascorbic acid and mineral ascorbates for optimal absorption
Does not cause gastrointestinal upset
Contains several different antioxidant-rich plants
Tasty and easily soluble in liquid
Sweetened with stevia only, no sugar or agave
Tested free from gluten, dairy products, soy, GMO, glyphosate, pesticides, herbicides and magnesium stearate
Special Price
€38,99
Regular Price
€39,99
Buy now, pay later with Klarna.
Free Shipping on orders over €100

In stock
C-Complete Powder
C-Complete Powder from Innate Response is a vitamin C supplement that also contains three important bioflavonoids (quercetin, hesperidin and rutin) as well as acerola berries, camu camu, amla fruit, cranberries and goji berries which all contain natural vitamin C as well as important cofactors needed for optimal bioavailability.
C-Complete Powder contains three mineral-bound vitamin C forms and is therefore recommended for people who experience gastrointestinal problems from regular synthetic ascorbic acid.
Vitamin C is a water-soluble vitamin acting as an antioxidant in the body. It prevents damage from free radicals in the body. Vitamin C is one of the most important vitamins with several important functions in the body:
Vitamin C contributes to maintain the normal function of the immune system during and after intense physical exercise
Vitamin C contributes to normal collagen formation for the normal function of blood vessels
Vitamin C contributes to normal collagen formation for the normal function of bones, cartilage, gums, skin and teeth
Vitamin C contributes to normal energy-yielding metabolism
Vitamin C contributes to normal functioning of the nervous system
Vitamin C contributes to normal psychological function
Vitamin C contributes to the normal function of the immune system
Vitamin C contributes to the protection of cells from oxidative stress
Vitamin C contributes to the reduction of tiredness and fatigue
Vitamin C contributes to the regeneration of the reduced form of vitamin E
Vitamin C increases iron absorption
Mild vitamin C deficiency can lead to fatigue, bleeding gums, nosebleeds and impaired wound healing, while severe vitamin deficiency leads to scurvy, a potentially fatal disease that is uncommon nowadays. Vitamin C is found naturally in berries, fruits and vegetables.
Bioflavonoids have many important health properties. They work in synergy with vitamin C. Quercetin is found in the skin of grapes, among other things, where it protects the grape from the sun's free radicals by having an antioxidant effect. Hespiridine is mainly found in citrus fruits and acts as an antioxidant by protecting against free radicals. Routine is a substance with antioxidant properties and there is research that suggests that routine helps against hemorrhoids.
Supplement Facts
| Amount per serving | | % of NRV |
| --- | --- | --- |
| Vitamin C | 1000 mg | 500 |
| Acerola Berry | 150 mg | * |
| Camu Camu Berry | 100 mg | * |
| Amla Fruit | 95 mg | * |
| Cranberry | 80 mg | * |
| Hesperidin | 20 mg | * |
| Quercetin | 20 mg | * |
| Rutin | 20 mg | * |
NRV = Nutrient Reference Value
*NRV not established
Other ingredients
Citric acid, natural flavours, steviol glycosides from stevia (Stevia rebaudiana), rice hull concentrate, beta carotene (for colour).
Suggested use
Mix 1 scoop (2,7 g) with 3 dl (10 oz.) of water, smoothie or beverage of choice daily. Maybe be taken anytime throughout the day. This product is in powder form.
Advisory information
Do not exceed suggested dosage. Keep out of the reach of children. Food supplements should not be used as a substitute for a balanced diet and healthy lifestyle. Store tightly sealed in a cool, dry place. Do not expose food supplements to direct sunlight, heat or humidity. Manufactured in the U.S.
Customer Reviews
So good and fresh

Really tastes like vitamin C rich fruits. I mix it in juice or water or in a raspberry smoothie.

Cold symptoms disappear

I drink it when I feel sick and I actually feel more alert and any cold symptoms usually disappear. Besides, it tastes good.

Best Vitamin C Supplement!

This is a vitamin C powder that tastes so good that you can mix it with less tasty things like turmeric, amla and algae powder and still get a tasty drink.