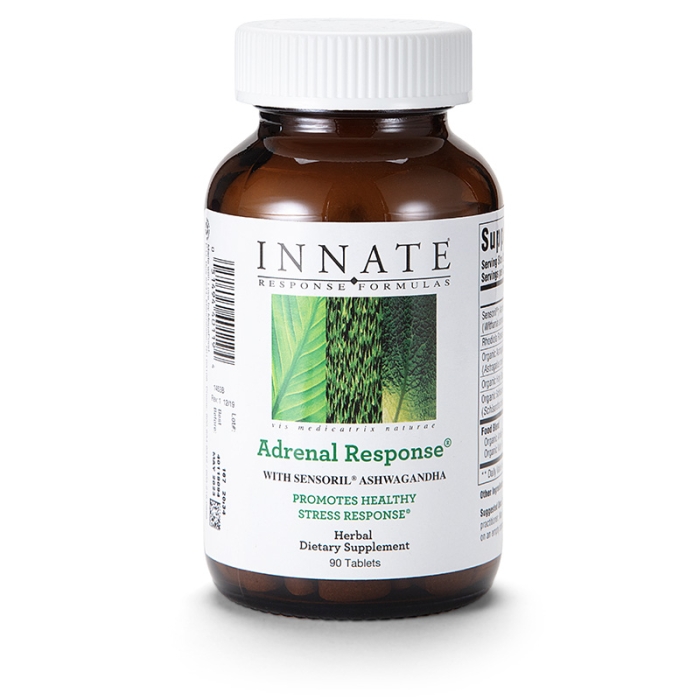 Adrenal Response from Innate Response is a high quality adaptogen supplement in whole food form. It contains the premium ashwagandha Sensoril known for contributing to physical and mental health in case of weakness, fatigue, and decreased concentration.
Adaptogenic botanical blend supporting the reduction of stress
Sensoril® Ashwagandha, a clinically researched extract of Withania somnifera standardardized to 10% withanolides
Glandular-free formula suitable for vegans and vegetarians
Tested free from gluten, dairy products, soy, GMO, glyphosate, pesticides, herbicides and magnesium stearate
Special Price
€56,99
Regular Price
€58,99
Buy now, pay later with Klarna.
Free Shipping on orders over €100

In stock
Adrenal Response
Adrenal Response from Innate Response with high quality adaptogens in whole food form is a powerful supplement for the stressed person . It contains ashwagandha known for contributing to physical and mental health in case of weakness, fatigue, and decreased concentration. Adrenal Response contains an adaptogenic botanical blend supporting the reduction of stress levels. It contains the form of ashwagandha called Sensoril® Ashwagandha, a clinically researched extract of Withania somnifera standardardized to 10% withanolides, that has been shown to maintain healthy cortisol levels to help support the body's response to stress.
Adrenal Response contains Withanolide glycosides, oligosaccharides and withaferin-A in concentrations clinically shown in, double-blind, placebo-controlled clinical, trials to support a healthy response to stress and help to ward off fatigue. Adrenal Response contains Rhodiola, a stimulating adaptogen which increases resiliency. Adrenal Response is a glandular-free formula suitable for vegans, vegetarians and sensitive people.
Supplement Facts
| Amount per serving |   | % of NRV  |
| --- | --- | --- |
| Sensoril® Ashwagandha root & leaf extract (Withania somnifera) | 250 mg | * |
| Rhodiola Rosea root extract (Rhodiola rosea) | 200 mg | * |
| Astragalus root (Astragalus membranaceus)  | 150 mg | * |
| Holy Basil leaf (Ocimum sanctum) | 150 mg | * |
| Schisandra berry ((Schisandra chinensis) | 100 mg | * |
| Amla fruit (Emblica officinalis) | 100 mg | * |
| Kelp Fronds (Laminaria digitata) | 45 mg | * |
NRV = Nutrient Reference Value
*NRV not established
Sensoril® is a trademark of Natreon, Inc. and is protected under U.S. Patent 6,713,092
Other ingredients
Microcrystalline cellulose, stearic acid, silicon dioxide, hypromellose (cellulose). 
Suggested use
2 tablets daily. May be taken anytime throughout the day, even on an empty stomach. The tablet can be crushed or ground and sprinkled on food or into drinks if you find it difficult to swallow.
Advisory information
Do not exceed suggested dosage. Keep out of the reach of children. Food supplements should not be used as a substitute for a balanced diet and healthy lifestyle. Store tightly sealed in a cool, dry place. Do not expose food supplements to direct sunlight, heat or humidity. Manufactured in the U.S. Should not be taken during pregnancy.
Sensoril® Ashwagandha is a trademark of Nateron, Inc. It is protected by the U.S. Patent 6,713,092.
Do you have a question? Contact us at [email protected] and we will get back to you as soon as possible.
Customer Reviews
Fantastic product

I have tried many types of supplements over the years, I exercise a lot, I eat very healthy but I stress a lot and I feel an exhaustion in my body that never seems to go away. BUT! After a few days of using Adrenal Response, I noticed a huge difference. All the ringing in the ears disappeared, I was alert in the morning, I had much more energy and stamina. Best product I've tried!

Much better after just a week!

I've had a stressful period and felt anything but good. After only a week or so of Adrenal response I felt less stress and I feel so much better!

All my stress disappeared!

I have used Adrenal Response for 6 months. It has had an absolutely incredible effect! All stress disappeared. I also want to add that I was recommended Adrenal Response but didn't really even find out what it was good for before I started taking it. But I noticed a big difference in my way of reacting to stress and then became interested in the product and read about it, so no placebo effect!

I was burned out

After just a few weeks on this product, for the first time, I began to feel a harmony in my body that I had not felt for many years. Adrenal Response has helped me tremendously to get back to myself, I think much faster than usual. I am a completely different person today than I was before. Calm and at ease rather than impatient and unpleasant. Thanks!

Fantastic product!

I'm very impressed with this product. The biggest effect is deeper sleep, increased energy and better mood. Can highly recommend it, worth the money.

Very good!

WORTH every penny! Highly recommended!

Amazing results!

I decided to give it a try since i love this brand already and it seemed to promise wonderful results. I have long had problems with irregular cycles, heart palpitations because of coffee and stress, and have recently felt on the verge of being burned out. Just after one day (!!) I felt results. The period that was overdue more than 10 days because if stress came the next morning. My sleep has become more restful, deep and calm, and my mind has become clearer. This is a truly amazing product, a little on the expensive side, but it is worth it! Thanks a lot, Innate and Greatlife!

Excellent product

One of the best products I have ever tried. Does what it says, but a bit expensive for everyday use.

Very satisfied

I'm burned out, but I've been able to cope with the stress I'm faced with in my everyday life thanks to Adrenal. It has helped facilitate my recovery. Very satisfied.

A very good product!

I read the reviews before I decided to try. I've been depressed for a long time due to things that happened in my life. I became curious because I already have good experiences with other products from Greatlife. What did I notice? Well, after barely a month, I had a lot more energy, more stamina, not so sad and I was not feeling down! I am extremely grateful!

Super satisfied!

I notice a difference when I take Adrenal Response. I feel better and have more energy. Super satisfied!

Very good!

My mom has been using this product for a couple of days only and she already feels a difference! It is good for her stress!