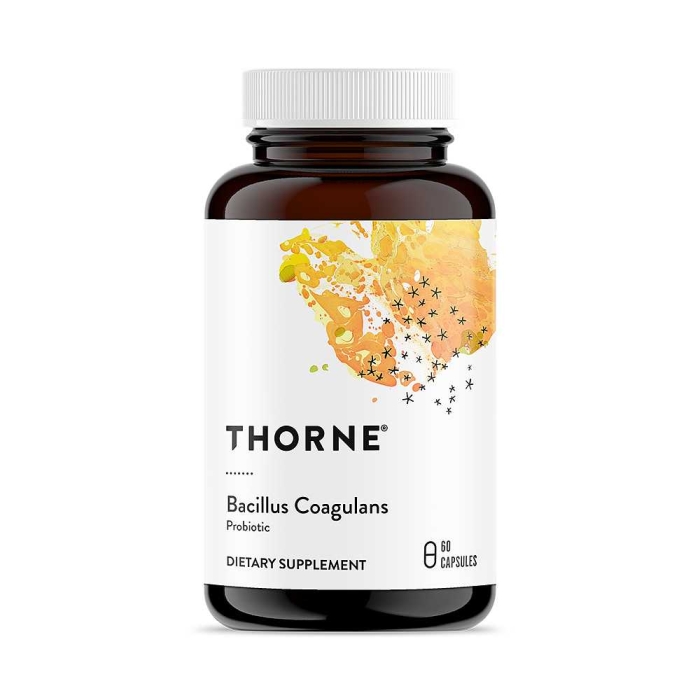 Bacillus Coagulans (formerly called Lactobacillus sporogenes) from Thorne is a powerful supplement for the intestinal health It contains a lactic acid-producing bacteria that resists being killed by stomach acid.
L(+)-lactic acid producing bacteria

Resists breakdown from stomach acid

Binds cholesterol in the intestine

Does not require refrigeration

Tested from free of gluten, artificial fillers, dyes, and additives
Special Price
€31,99
Regular Price
€41,99
Buy now, pay later with Klarna.
Free Shipping on orders over €100

In stock
Bacillus Coagulans
The intestinal tract contains trillions of bacteria that, when a person is healthy, coexist with us in a beneficial, symbiotic relationship. The beneficial bacteria help digest food, produce vitamins, regulate the metabolism, and facilitate a normal immune response. Probiotic bacteria promote a healthy intestinal environment by producing lactic acid and by secreting fatty acids that are helpful to the growth of other beneficial microorganisms. Bacillus coagulans (also known as Lactobacillus sporogenes) is a lactic acid-producing bacteria that is unique in probiotic supplementation. While this beneficial bacteria is dormant in the bottle, it reverts to a growing bacteria in the intestines. As a result, it resists being killed by stomach acid.
Supplement Facts
Amount per serving (1 cap)
% of NRV

Bacillus Coagulans (Previously Lactobacillus sporogenes)

(Contains at least 2 billion CFU per capsule.)

133 mg
*
NRV = Nutrient Reference Value
*NRV not established
Other ingredients
Delayed release capsule, medium chain triglycerides, microcrystalline cellulose.
Suggested use
1 capsule 2–3 times/day. If you find it difficult to swallow the capsule, it can be opened, and its content can be sprinkled on food or into drinks that should be consumed immediately.
Advisory information
Do not exceed suggested dosage. Keep out of the reach of children. Food supplements should not be used as a substitute for a balanced diet and healthy lifestyle. Store tightly sealed in a cool, dry place. Do not expose food supplements to direct sunlight, heat or humidity. Manufactured in the U.S. If you are pregnant, nursing or taking medications, contact your healthcare provider before taking this product.