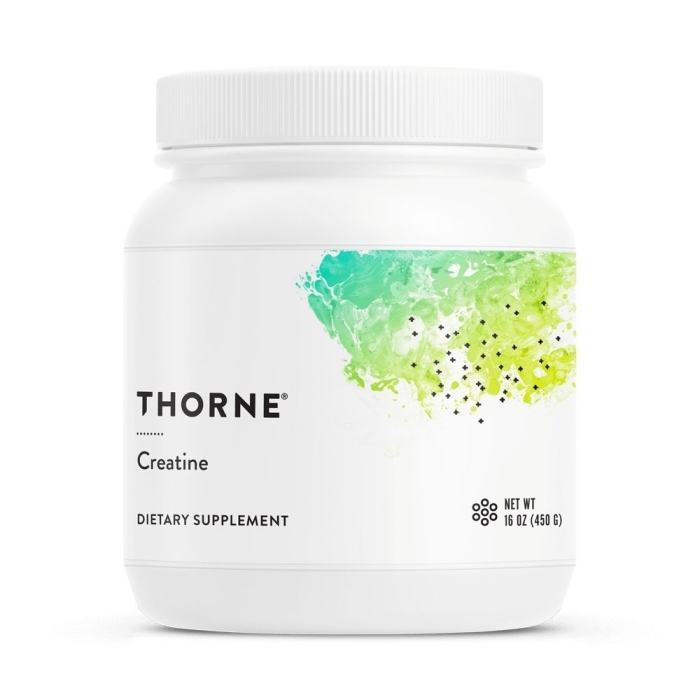 Creatine from Thorne is probably the world's purest creatine monohydrate. It is an excellent supplement for those who want to increase the effect of strength training on muscle strength.
Pure creatine monohydrate

Certified by NSF® as a doping-free dietary supplement.

Micronized colourless and odourless form of creatine with high solubility

Tested from free of gluten, artificial fillers, dyes, and additives
Special Price
€44,99
Regular Price
€54,99
Buy now, pay later with Klarna.
Free Shipping on orders over €100

In stock
Creatine
Creatine is an amino acid found mostly in your muscles and in the brain. It's naturally produced in the body from other amino acids. Creatine is also found in foods like meats, eggs, and fish. It plays a vital role in the body's production of cellular energy by helping to make ATP, a molecule needed for intense exercise, as well as for supplying the energy to pump your heart and power your brain.*
Benefits of Thorne's Creatine Monohydrate Powder:
Muscle Performance: Promotes physical endurance, power output, and increased work capacity of muscle

Lean Body Mass: Enhances strength and promotes lean body mass

Cognition: Supports cognitive function and a healthy body composition, especially in the ageing population

Cellular Energy Production: Creatine helps the cells of the body more efficiently create energy, thus benefiting exercise capacity

Injury Prevention: Promotes a reduction in the frequency of dehydration, muscle cramps, and injuries to the muscles, bones, ligaments, tendons, and nerves

Nutritional Support: For individuals who have an increased dietary need, such as athletes, or for those who aren't consuming enough creatine-containing foods in their normal diet
What sets Thorne's Creatine Monohydrate Powder apart:
NSF Certified for Sport®

Easy-to-mix

A highly researched, micronized form of creatine monohydrate

Colorless, no odor, and enhanced solubility

Because an athlete needs to know that his or her supplements are trustworthy and compliant, every batch of an NSF Certified for Sport® product is tested for compliance with label claims and to ensure the absence of more than 200 substances banned by many major athletic organisations, including stimulants, narcotics, steroids, diuretics, beta-2 agonists, and masking agents.
Supplement Facts
| Amount per serving (1 cap) | | % of NRV |
| --- | --- | --- |
| Creatine Monohydrate | 5 g | * |
NRV = Nutrient Reference Value
*NRV not established
Other ingredients
–
Suggested use
Mix one scoop with at least 3 dl of water or in food. To reduce the risk of gastrointestinal problems, take creatine together with the first meal after the training session. Do not overdose creatine.
Advisory information
Do not exceed suggested dosage. Keep out of the reach of children. Food supplements should not be used as a substitute for a balanced diet and healthy lifestyle. Store tightly sealed in a cool, dry place. Do not expose food supplements to direct sunlight, heat or humidity. Manufactured in the U.S. If you are pregnant, nursing or taking medications, contact your healthcare provider before taking this product.